Hi Darren,
nice to hear from you again. It's almost 2 years ago that we last met in Frankfurt. Quite a lot happened since then. Now it's about time for an extensive interview with you.
But before we start, can you briefly introduce yourself to our readers?
My name is Darren Lovibond and I'm the founder of Hellfire Records, a Doomcore Record label from London since 2006.
Thanks. Can you tell us a little more about the label and its philosophy? E.g. according to which criteria do you select the artists that can release on Hellfire Records?
When I started the label it was mainly about releasing my own music and maybe a couple of friends like Fifth Era and I had some ambitions like a lot of us do with maybe working with other artists in the future. But dedication to the music style is important. A lot of it comes down to heart and soul, a type of energy in a track keeping me interested when listening to it and keeping the dance floor alive and kicking (especially for vinyl releases ). Then it gets my attention. There are people who have influenced me musically over the years. So being able to release music of theirs on Hellfire Records has been great too. But there are other artists out there that I have come across the last few years that have been doing some great music. Anyway, we still chose those artists for their style, not necessarily their reputation and have made some good friends in the process. Artists that released on Hellfire include:

Fifth Era Records, UK
Adam Frost, GER
Syrius 23, GER, Hellfire Cult
Doom Hk, FRA, Hellfire Cult
Marc De Sade, GER, Hellfire Cult
Industrial Demon, Estonian Cult
There are lots of DJs who are also producing. You went one step further and founded your own record label. What's the story behind that?
Cor – long story. When I first had a vision of making music before I had my own label I wanted to keep hardcore the style it was supposed to be (in my opinion), nothing too happy and obviously dark. As you say I was DJing first (old skool rave), then I found gabber and was hooked straight away. I then wanted to start making this music and got into making terror/industrial hardcore on an Amiga with just samples. I then saw an advert in the local record shop (haha yeah, remember those?) where you could rent time at Outcast Clan studios back the mid-90s. So I started going to use some of their studio and maybe link up with a few more people behind the hardcore scene in London.

By this time I was playing gabber on illegal pirate radio stations and playing at parties/clubs and squat parties in London and around UK and then went on to release some tracks on Corrupt Records and a few other labels. I knew Fifth Era by this time and then started to plan my own label mainly to release my own music rather than only releasing on other people's labels (as good as that is). I felt I needed my own label and full control. And it had been an ambition of mine for a while and I had to see through. This was a bit before the social media websites and digital format took over the club scene. So vinyl was about the only way to get your music out there apart from playing live. Luckily things started to fall into place. I had been trying to think of a name for the label as it needed to mean something and I found out an old family member of mine who shared the same rare surname with me was part of the "Hellfire Club", an elite "so called" satan worshipping club in the 1700s. He was one of the original members. So the name Hellfire Records was born (it had to be!). He wrote risky/rude poems for that time period and he was based just up the road from where I live now near the river Thames, which is also a crazy coincidence as I used to live hundreds of miles from here. So the fact that I ended up in the same area as he did I felt was more than a coincidence. Luckily I also managed to hunt down his poems that had been bound into a small book which was nice and a rare thing to find as most had been unpublished "officially". I also connect with the way he was – a bit of a risk taker for his time shunning the church to a degree with being a member of the hellfire club and writing risky words. I'm sure he'd approve of Hellfire Records, haha …
Apart from running the label and DJing you are also a producer. What is your favourite gear / equipment in your studio?
I don't really have just one…although the TR-909 is my drum machine of choice, The Roland 303, Roland Juno, Alpha 2, Korg MS20 Moog sub Phatty and my Roland System 1 and my hand-built Modular synth are what I tend to use at the moment, but most classic synths have their own sound or character and place in a track depending on what I want, feel or need. Hands-on creating sounds/patches on the synths is what I like, so synths that have not too many hidden menus are what I am leaning towards again but I am spoilt for choice really (without listing all my studio equipment) and it's not always the amount of gear you have but the right gear and the way you use them. But having the right pieces of kit can be key to what sounds you want to make. Some synths have a unique sound you just recognise straight away.

I'm just lucky to have collected hardware along the years and love the sound they have, but I did start making music on an Amiga 500 with just an 8-bit sampler (before home PCs as we know them now where cheaply obtainable). So you just work with what you can afford and make it happen. Some really cool tracks have been made with just a few bits of kit of samples and a sequencer.
How did you get into hardcore music and doomcore in particular?
I was 15 and in hospital at the time and my cousin gave me a mixtape of some UK rave / UK Hardcore (break beats). I was pretty hooked to that straight away and started listening to pirate radio stations (ah, the good old days). Then around 1993-94 I heard some european HARDCORE /what I refer to a lot just as Gabber, Speedcore etc. and I was blown away. It was like the big fuck off that punk gave to society I could hear in Gabber/Terror. With distorted drums and angry vocals – that was it. All my record hunting was for Gabber and Hardcore records from Europe and looking for Gabber parties in London; my first one being World War 4 in Brixton 1994. At this time it wasn't so split into styles especially here in the UK. You maybe had a hard acid room and the hardcore room, that was everything (all what we know now as the classic from old skool hardcore to Terrorcore). Doomcore didn't really emerge as a style of its own (in one room in a club for instance) or one DJ playing only Doomcore style sets until I had been going to Crossbones parties. Then I heard more as they focused on a lot of PCP records and the sub labels like Cold Rush Records etc. and by now Fifth Era had done a few records. Things To Come /Oliver Chesler had also put some out new doomy records. So you could pick more doomy sounds to play. But it was pretty limited then before the internet explosion, so I got into Doomcore as it was emerging as a sound "in its own right here in the UK". It just felt right. It had all the darker and ravey sounds I liked from the early hardcore but was slower and more room to play around with it and I felt we needed "more" Doomcore. Hence I started making Doomcore – I WAS HOOKED! The grooves, the feel and atmosphere of doomcore were too much to be ignored (for me).
Doomcore – as the name suggests – covers the dark and sometimes melancholic areas of hardcore music. Do you think that one has to have certain "dark" mindset to be able to fully appreciate the doomcore sound?
Well, some people say "What do you want to listen to that for?" But music is all sorts of things to all people. So to me it's a form of release or expression. I have met some dark people in the scene but I'm sure the same goes for any scene. I do tend to find it attracts similar people with similar mindsets on society or the system and maybe art etc. And a bit of a "Hardcore until I die" attitude. That probably comes from being into hardcore music in general. It´s where we all started off and that has the same attitude even with the UK breakbeat rave scene which was also referred to as hardcore (this is why I keep referring to Gabber when I talk about our scene in general not to get the two confused), here as well in the UK had that attitude "stay up all night and party hard"…
Doomy Days Of Phuture Past
When did you start DJing and producing – and what or who do you regard as your early passions and influences? Who is your biggest inspiration? Who do you have a lot of respect for?
If you're talking about from the scene itself …the first gabber / hardcore DJs I heard were on pirate radio on NRG fm. And DJ TRAFFIK would always spin great tunes. He mixed flawlessly all the time and had great tunes to spin and was a big inspiration to me in the early days to get up and get out there. He was playing a lot of PCP stuff then but I didn't know all the record names when I first got into hardcore (as a fan before I started DJing it in clubs), so without knowing I was influenced from the start by the PCP. Hearing tracks like "6 Million Ways to Die", "We have Arrived" and "103% Acidiferous" just blew me away back in the mid 90s but back then I didn't know most where tracks from PCP or their sub labels as some of them were fresh and coming out under his infamous aliases. Industrial Strength records played a big part in my life too as I was pretty angry when I was younger (and also into punk and other harsh music) so the Terrorcore hit a sweet spot with me. So I would also have to include Oliver Chesler (under his many aliases Temper Tantrum) and Delta 9, obviously respect for Marc Acardipane (goes without saying really) Miro, and his many aliases. Darius and of course Thomas the Butcher from Nordcore. He has been a good friend over the years and supported what we do. And of course Rob Lurker.
What drives you to make music?
My emotions, life and death and something to excel at. And something to do while I am on this planet. Music production really drives me to do better. I have learnt a lot from making music so the buzz of putting all your energy into making a track, going deep into your emotions and pulling from that and getting it across in the music can be very satisfying (as well as draining sometimes). But the hard work and pleasure from the start to end of the production is all part of the addiction to making music. So it's also a form of getting my frustrations or emotions out and putting it into something positive. A form of release definitely and if people connect with it even better. Even if they connect on a different level to my intended message. When I see interviews with members of bands that have been going 30 years that say that they doubted themselves or still practice for gig or had bad times and struggles throughout their industry – that helps me carry on. It reminds me we all have these hurdles or issues to get over at times what ever it maybe. Knowing that makes you feel better about your own abilities or hurdles you have to get over to keep carrying on.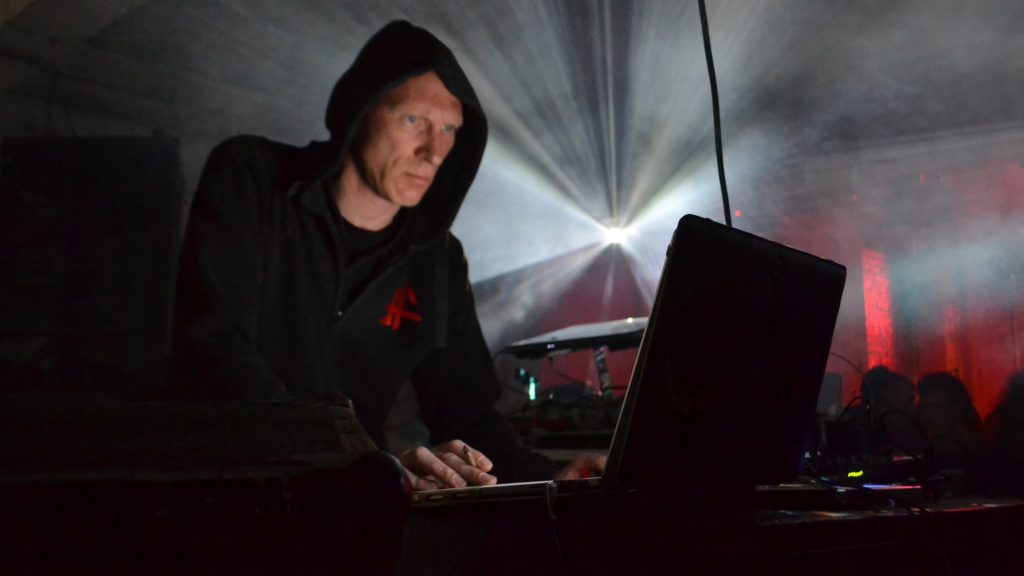 As a collective of artists, Eternal Entertainment have given themselves the mission to (re-)gather hardcore artists and the scene in the Frankfurt area. What's the solidarity of the scene like in London? What do you think where the scene stands today and where it is heading to in the future?
I would say the solidarity in the scene is there as it has been pretty much the same people putting on events for the last 20 years. London has always been a dedicated scene for hardcore music and fans that know their music . Crossbones still get out and do the occasional club night although they just announced they are giving up putting on parties …and there is Live Evil also and a few other nights but nothing regular like the old days. But we are working on trying to get something more regular going to push the right type of hardcore so the new generation understand quality hardcore music. although it can be hard putting on nights regular in London due to venues maybe not wanting harder music and costs of renting clubs and the gentrification of London isn't helping either. We are pretty determined still .. as for where the scene is going there is a couple of other promoters now doing some nights in London but not exactly what we call real hardcore ….as for the raves / nights we are involved with I do see some younger people in the crowd when I do go out and people also travel from other parts of the UK and Europe for our London events. There is a thriving scene in London and respect for what we do and there are some good promoters putting on good underground acid and techno style nights but as soon as you cross over into the world hardcore/gabber etc it's a bit less frequent in London. But we are determined to keep it going and are currently in chats with a few other people to maybe start something more regular …so watch this space.
In London in the 90s there were lots of illegal raves in abandoned warehouses, railway arches etc.. The more fucked up the location, the better the party. What is it like now?
I don't really go out on London Free party scene anymore as it's not what it used to be. The vibe was a lot better in the 90s and early 2000s and Crossbones don't take their rig out so much or at all to these parties now and I'm getting a bit old for standing in a damp warehouse waiting for the police to raid it..been there and done that for years haha and due to the gentrification of London (I heard similar was happening if Frankfurt and other parts of Europe) the big changes that are going on in main cities I think they are stamping down on it a bit more. There was a riot with the police at a couple of the free parties and hit the main news channels … but obviously there are still some illegal raves like I mentioned earlier .More recently I went to / played at a couple of raves in the midlands area of the UK (not London) and there was good vibes there. The Rigormortis Crew near Derbyshire actually managed to get the use of an old steel factory / warehouse that they where doing parties in but managed to turn it around and get permission by the owner so they hold regular nights ranging from UK drum and bass techno and hardcore right up to speedcore. So it's good to see people in the hardcore scene in the UK still putting energy into trying to put nights on as regular as possible.
We heard that hardcore parties in London nowadays end at 2 a.m. rather than really starting off at that time as it used to be. What's that all about? Or is it just gossip?
Well that's just the cheaper venues and part of this clean up of London city by ending a lot of the late night licences so some small clubs in London only have licenses until 2am …and like a lot of capital cities venues with "all night late licences" seem to be getting closed down or the ones that are seem to be too expensive to rent. There are still a few venues but you have to hunt around a lot. As you can imagine they can be really picky about what nights they have there and they will want music what pulls in the most money for the venue, etc.
The DJs from the 90s are all in an advanced age now. Is there any talented offspring in the doomcore field or is it still the same people as in the "old days" that are playing at or visiting the current parties?
Most of the die-hard old skool are around but there are a few new younger people and producers but London has a limited scene so I'd rather refer to the UK as a whole with hardcore producers or club nights but there are new faces or younger people in the crowd haha but I see younger people in Europe when I go out like in Belgium or NL..but some of that could be down to age restriction. I think some parties in NL you only have to be 16 to get in.
For a few decades now there exist several connections between Frankfurt and London hardcore/ doomcore artists. What do you personally associate with FFM? And what connects you to FFM?
PCP the Mover of course… and I have other connections – yourselves…
PCP really pushed the Frankfurt thing back in the 90s and shaped the sound. There was an air of mysticism about the label area and the whole PCP ideology of 2017 etc. Then I met Nora from Frankfurt, I already knew Rob Lurker from Fifth Era and I was just starting to hang out with him and play at his small events I think around the time Nora was moving back Frankfurt ..so I've had loose ties there for a while but I must say I can't leave my good pals out from Hamburg, Thomas the butcher and the crew from Nordcore. He's been good to me over the years …so respect to the butcher, I think really there is a sound that comes form Germany in general that I got addicted too, so that would be the first connection I'd say.
Now to a round of some brief questions:
What single night out has been the most memorable for you? As a DJ? As an attendee?
So many nights have been memorable and influential in some way to say one party would do the other injustice …but most people remember their first one ..for Gabber Hardcore that would be World War 4 in Brixton in 1994 with DJ Traffik , Slim Jim, Torah, (r.i.p), Outcast Clan and more. That night for me was amazing as I'd been to other raves in the UK but the gabber scene was different. And it changed me for life. Everyone seemed to know everyone else. Everyone was happy and buzzing off the music (and drugs) and you could tell everyone had similar attitude towards life Haaaaardcore plus the DJs were in the crowd afterwards (unlike the more commercial drum and bass / UK rave clubs) so it was cool getting to chat and meet some of the people who inspired you.
After-Hour Routine – The day after: How do you chill?
Usually a good film, maybe a nice single malt whisky or roll-up of some kind – wink wink.
If you could eternally be stuck in one year's music scene, which year would it be?
Well it wouldn't be one year. I'd miss too many tunes ..haha .. but it would be the 90s.
How do you prepare for a gig?
I play vinyl so no beat sync for me haha. So if I am DJing I will practice a set with some variations throughout so I can play different tracks if I want to. It`s usually pretty organised but loose enough to drop other records in if I feel in the "mood" for something else. For a live set it's a bit different. I don't bring all my gear out with me due to the way I work in the studio. So I will use my laptop, a controller with various ways of editing arrangements – but even this has to be pre-organised to an extent and put into the right timing scale. Luckily I convert everything to samples when I actually make a track. But not every track I make is at the same tempo so it can be quite a lot of work. Building a live set (from the beginning) having to have each separate sample of every instrument and then loops or each part for every track and having them on there respective channels and remember where everything is or taking notes of where sounds are (haha) so quite a bit of preparation or practice goes into playing any set really. After all you want to do your best.
What is your favourite non dance music song?
I grew up with a lot of music from as early as I can remember my father was a bit of a hippy, so heard loads of music when I was young. I like a lot of music but bands or music that I like or influenced me at some point would be: Sex Pistols, The Who, Rolling stones, various other punk/various rock bands/various metal bands/various Industrial bands, various classical music, …
Rave Arena or small venue? What do you prefer?
Probably smaller venues although it is an amazing experience to be in NL in a huge area with 10,000 gabbers (its an experience we all should have) the smaller parties I tend to prefer as you seem to connect more with people. It's less about money and more about good quality music. I find the German scene is very similar to the UK in the smaller parties, the way people dress and are into the harder darker sounds. The vibe/attitude at smaller parties is usually great.
If you were filling a time capsule that would be opened in a 1000 years, what would you leave behind for future generations?
A rotten egg, haha … I don't know I never thought about it. My vinyl and loads of hardcore maybe, who knows.
If we invited you to perform at an event organised by Eternal Entertainment, who you like to be on the line-up with?
I'm happy to play alongside anyone really… but playing alongside Marc as the Mover would be cool. Fifth Era or Facehoover (Bones) it´s a shame Nordcore are not doing so much anymore but obviously Mental Fear Productions, FFM Shadow Orchestra. Oliver Chesler would be cool too, maybe even Manu Le Malin the artists from France like Minimum Syndicat, Voiron or Doom HK. There's some good stuff coming out of France the last few years there has been a resurgence in the 90's sound as most people are aware of so there has been some good music being produced and artists doing music on the techno or acid rave end of things but still dark and really well made with a hint of everything that we know from the 90's classic rave/techno sounds but with there own edge and keeping it real.
Finally: your current Top 5/10
Ok so some of this will be acid rave as well just what I'm digging at the moment or the last year in no specific order:

PARC EXPO part 1 by Voiron 10″ vinyl ROD 2
BATTLE DRESS by Minimum Syndicat / ROD 8
IMPULSIVE BEHAVIOUR / MORD 43
Creature, Swarm Intelligence
The latest releases on Hellfire Records are HFR011 – Doom Hk and HFR012 – Mental Fear Productions – Nine Circles Part 2. If you spoke to someone about the records who hasn't listened to them before – how would you describe the music and the atmosphere they create?
HFR011: Side A the tracks by Doom HK are what I´d describe as an orchestral style of doomcore with big synth lines in a dark orchestral style with choir vocals, putting you into a satanic sounding space but with pounding bassy kick drums and percussion in a military style you want to stomp down the floor of hell. A classic style of doomcore.
Side B by myself Darkside also has 2 tracks: also a military style of percussion with punchy kick drums (like a horde of marching zombies), big synth lines with sick feeling undertones and atmospheres with dark hoovers sounds .
I tend to produce what sounds like terror and a doomy sound together but at a slower tempo to terror of course, a strong E.P with 4 floor killers. Both track's vocal on side B is also a big part of the tracks. One is of a serial killer and his paranoia about how it affected his mind and how he was felt walking down the road afterwards. The other is a man who gets fixated on wanting to kill everyone that he considers scum of the earth. Drug dealers, pimps, corrupt people in power and due to a Doom Hk's Track being called Affliction I wanted to include his input somewhere but with some meaning to us both of course. So Affliction Of Death seemed to work.

HFR012: Well, what I can say. What outstanding EP. For me Mental Fear Productions have that German sound I was on about and very well produced. This release, very big on its bass sounds and drones and complex arrangements still with a really eerie overtone and taking you on a full journey and roller coaster at times of intense darkness, almost to the point of sickness – travelling to the abyss. This one really hits you in the gut, with the fourth track being more broken in its beat style it still wreaks of the Doom and despair!
Now, last but not least: What are your plans for the future?
To keep making more music and releasing on vinyl and doing gigs when I can. We will re-release all the rare bits from Hellfire next on an L.P double pack, as some of them where on special dub-plates. Only 25 or less of some releases exist, so tracks from HFR004, 5, 666 and 7 will be re-cut and released in more units. And a few other plans in the pipeline, maybe a new album on Hellfire of my own new tracks at some point. I also co-run an Acid Doom Rave label with a good Belgian friend (Raoul), so I've been busy finishing up some music for that label too. So I´m pretty busy and plan to get the next 2 releases finished for that in the next month. I will also be getting my cutting machine going again and getting more active with that so that's on the agenda too to do some vinyl cutting for people who want their tracks cut to vinyl, and obviously keep going with Hellfire Records
Thank you very much for your time and your effort. We hope to see you again soon.
Thank you. I'm sure we will. Stay Doomed, "Tortured Music For Tortured Souls"

Darkside HF
Spiral Into The Abyss DJ MIX – Dj Darkside Hellfire Records