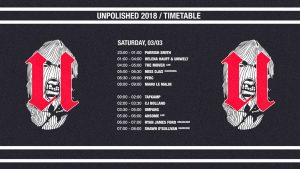 Wow, what a night that was! But let's start at the beginning.
The rave trip started with a flight from Frankfurt to Amsterdam to attend an event for which I purchased the entry ticket already in december. After arriving in the city of A'dam I first of all had to warm myself up in an Irish pub with some lamb stew, a pint of Guinness and of course a few whiskys as it was so damn cold that even the famous "Grachten" were half frozen. With a warm feeling and a full belly I continued my trip by train to Rotterdam to meet with a friend and her other guest who came all the way from France. Together with the R'dam crew and the French raver girl I drove back to the event in A'dam and prepared myself to enter the location which was a warehouse in a industrial area of A'dam.
There was no long line at the entrance as the controls were very fast but even for the few minutes of waiting the Reactor Events crew offered free hot tea to the visitors. After I've entered, placed my jacket in a rent locker and bought my tokens for drinks and other offers, I immediately approached the main hall and was stunned… Lights – Sound – Action! Not often in my rave live that I have wittness such a loud but precise and clear soundsystem. Also the light effects and visuals were great, sound matching video art on several triangular screens, reduced but well placed multicolour strobes and moving spots as well as two big triangular laser beams. The large smokers area had a big window to the main floor so you always could see what was going on. All in all the warehouse with it's industrial touch was the icing on the cake for this whole visual blast.
Even at this early time the party people were already enjoying the opening set of Parrish Smith on the main floor who played a hard Industrial Techno to Core set, check the recording of his DJ set here.
As the second floor opened an hour later, this gave me the opportunity to enjoy the warm-up music, get me a Whisky-Coke and talk a little with my rave companions from Rotterdam before checking the opening set of Tafkamp. Around this time news was making the round that Helena Hauff would not come for her back to back set with Umwelt, as her flight from Hamburg was cancelled due to the bad, cold weather. Doesn't matter, I was entering the second floor and Tafkamp was playing a blend of pumping Oldschool and Techno Classics which was just fitting for the more club like ambiente on this floor. The party crowd here was already going mad and created a nice atmosphere. I stayed a while and even was rewarded with some classic gems from Dance Ecstasy 2001 which should not be the only time this night that FFM sound appeared in my ear canal. Enjoy Tafkamp's full DJ set here!
After returning to the main floor and enjoing the sound, I recognized that Smith was playing the Miro Remix of We Have Arrived, yes!
Then Umwelt from France took over the decks and started the announced Techno/ Electro crossover set without Helena Hauff.:
Even as I'm not so much into Electro-style Techno, Umwelt's set went straight forward and made me enjoy what I heard but check it out yourself here. I actually think the great soundsystem is also responsible a bit as the bass kicked in just brutal all night long. To my surprise also Umwelt played Miro's "We Have Arrived Remix, I have the feeling that the track is undergoing a revival at the moment.
After Umwelt finished his last beat, the one and only live performer in the main area appereared: The Mover! He started out with his remix of Cassegrain's Trappist which transformed into a edited 4/4 version after the main break. Although the BPM's were slower than from the previous DJ's, The Mover made this up with much more darkness. He played a blend of his classic traxx as well as tunes from his upcoming album like "Dark Comedown"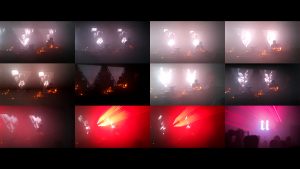 The final track was a live edit hybrid of "Pitch Hiker" and "Awake In Neo Tokyo", which he played with his MPC drummachine towards the dancefloor and caused an almost Gabber- like atmosphere among the ravers, you could see legs stomping everywhere. Listen to the whole live performance here.
From now on I was stuck on the first floor and only had a short look into the second floor when I had to go pass it on my way to or from the restrooms. I had a short listen to the set of CJ Bolland at one of these occasions and heard him play a energetic Trancetechno Classics set but that was not my cup of tea.
Back in the main floor and next up was the Queen of Acid Miss Djax who played a hard but still grooving Oldschool Techno set. And again FFM sound set its mark as she played the Taucher Remix of Lunatic Asylum's classic "The Meltdown", see and hear the great break in the video and listen to her complete DJ set here.
After Miss Djax it was time for the penultimate DJ of the night, Perc. He played a straight forward, raw and dirty Industrial Techno set which sounded nice but after a while for me it became a little arbritrary and I found myself a spot on one of the couches at the back of the main floor to chill a little and regaining some energy for the final DJ of the night.
Listen to Perc's set here.
Manu Le Malin started his DJ artwork with a soundeffect thunderstorm before dropping the first track of his set, which gave me the time to regather with the Rotterdam crew right in front of the stage for our final outburst.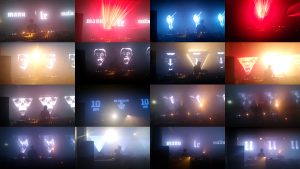 After about a half an hour a note was suddenly shown on the animation screens and screams of joy sounded through the crowd, "WE KNALLEN M DOOR TOT: 10AM!" The time shedule normally told that the party would end at 9am but Reaktor Events decided to let the party go on one hour longer and that Manu could play two hours instead the originally planned one, what a glorious madness! So now there was absolutely no holding back, neither for the party people nor for Manu. He delivered an energetic set of current Industrial Hardcore into which he also dropped a few of his classic tunes like "On The Way Home" or "Premier Contact". See and hear a glimpse of what was going on below and listen to the recording of his DJ set here.
Manu ended his set as he started it, his final track merged into another effect thunder of an neverending loop which went more and more silent until it was over and the lights went on. The crowd applauded thankfully and so did Manu for the positive response they had given to him. So now it was time to leave and we walked towards the lockers and exit as I recognized another, small, third floor on which the last DJ also just ended his set, this was the newcomer floor I totally missed.
Arriving outside the sun was shining and to my surprise the temperatures had made a jump up over night so we didn't had to freeze. Me and the R'dam crew did a last gathering in front of the cars to say good bye to each other and then my friend brought me to the airport to catch my flight back to FFM.
The final conclusion: Unpolished 2018 was a very well organized event with a lovely artist selection, a brutally loud but yet crystal clear soundsystem, outstanding visuals, a friendly staff and a mostly young but thankfull party crowd. So if you not only want pure Techno or Hardcore events, I give a clear recommendation to visit the next edition of Unpolished in 2019!
Video sources: Reaktor Events/Unpolished & Warehouse Elementenstraat NL