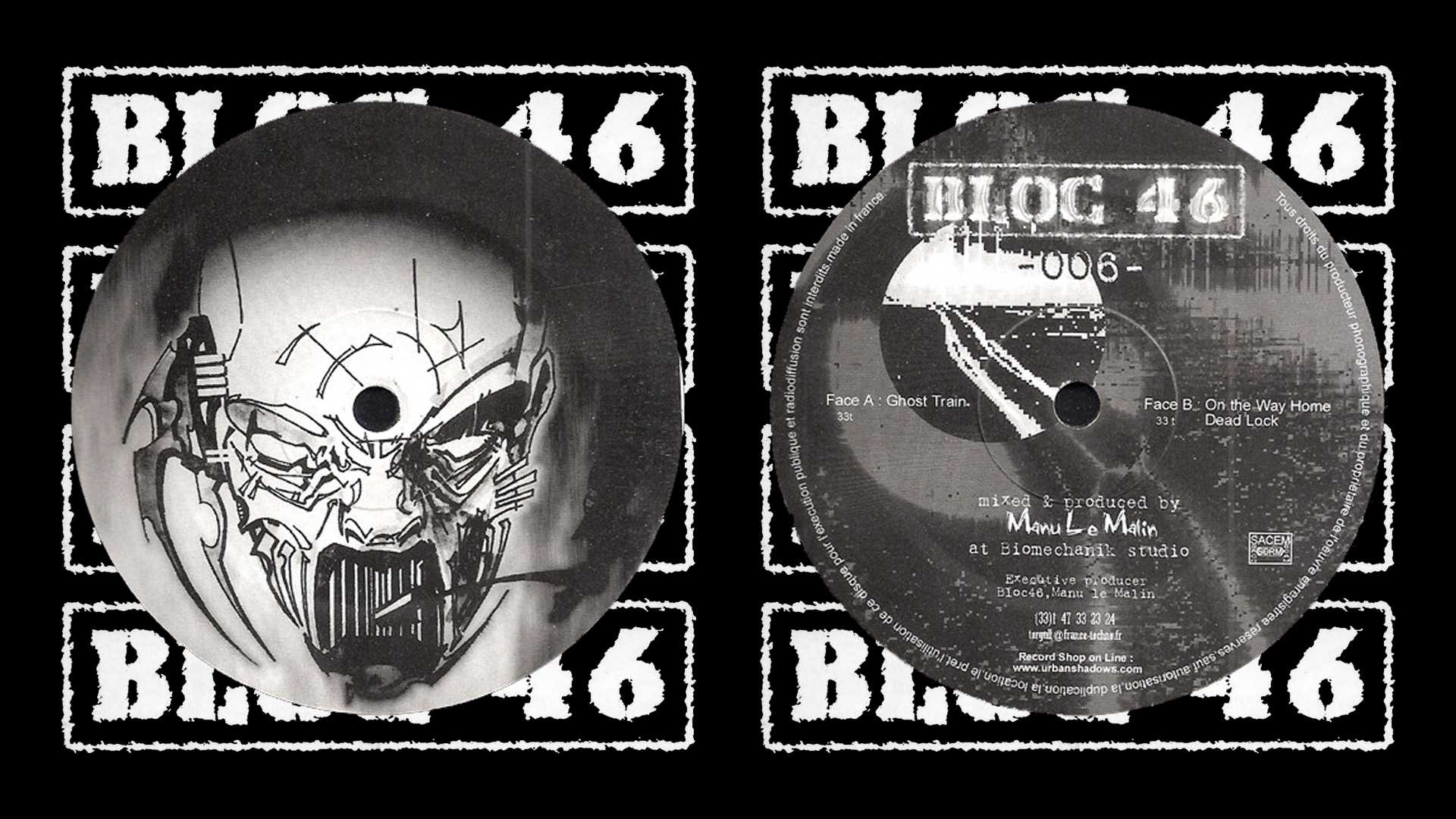 Hello Eternalists! We are back with the monthly classic record review presented by Dark-T!
This time I have chosen a french release from the end of the old century, namely BLOC 006 – Manu Le Malin – Ghost Train. There is also a remix EP existing from this record on the same label with the very popular Vitalic Remix of Ghost Train on it, that you can bring back to your mind here . But I want to stay with the original release from the spearhead of French Hardcore Manu Le Malin as I feel it is very underrated.
So let's start with the track "Ghost Train" on side A. This is an industrial sounding midtempo Technocore banger that slowly grows bigger based on a building up pounding kickdrum. The missing of typical beatless break parts and the sheer length of the track with almost twelve minutes clearly show the influence of Detroit Techno on Manu's work. The title of the track speaks for itself: haunting synths, rhythmic machinery stoicly working its way forward and alienated sounds that clang like a train endlessly changing track, drill into your ear canal the longer the record proceeds.
The first track on side B is "On The Way Home", an innovative Hardcore track that set the note for the, at that time, just beginning Industrial era in the Harcore music. Starting out directly with strong and powerful yet distorted kicks, the track marches forward to the main break part which begins with a haunting synth sound that introduces a guitar-like melody that continues to tell Manu's dark tale. Who thought that after this peak not much more could happen thought wrong, a grim melody adds its commands, which forces you to move your body right into the final darkness!
Last but not least there is track B2 which is called "Dead Lock". This one is a pure kick and percussion Industrial monster, living out its distorted attitude with almost no synthesizer sounds and working on your synapses with a totally stripped down Hardcore rhythm. Directly into the ears, to the brain and into the body, no detours possible! Even though possibly pushed to the background by the two very strong previous tracks, this one should not be underestimated as it delivers all you need to make the dancefloor shiver in despair!
The more records it released, the more BLOC 46 became the label that brought the, to this time, disordered French Dark Hardcore scene onto track. This release set the final tone and in my opinion BLOC 46 and also its follow up label 46 Records, which only made it to 5 releases, ceased operations much too early.
This record will be a hard to find one at your local record dealer but on the Discogs marketplace you can purchase it starting at about €15,- in a "Very Good Plus" state.