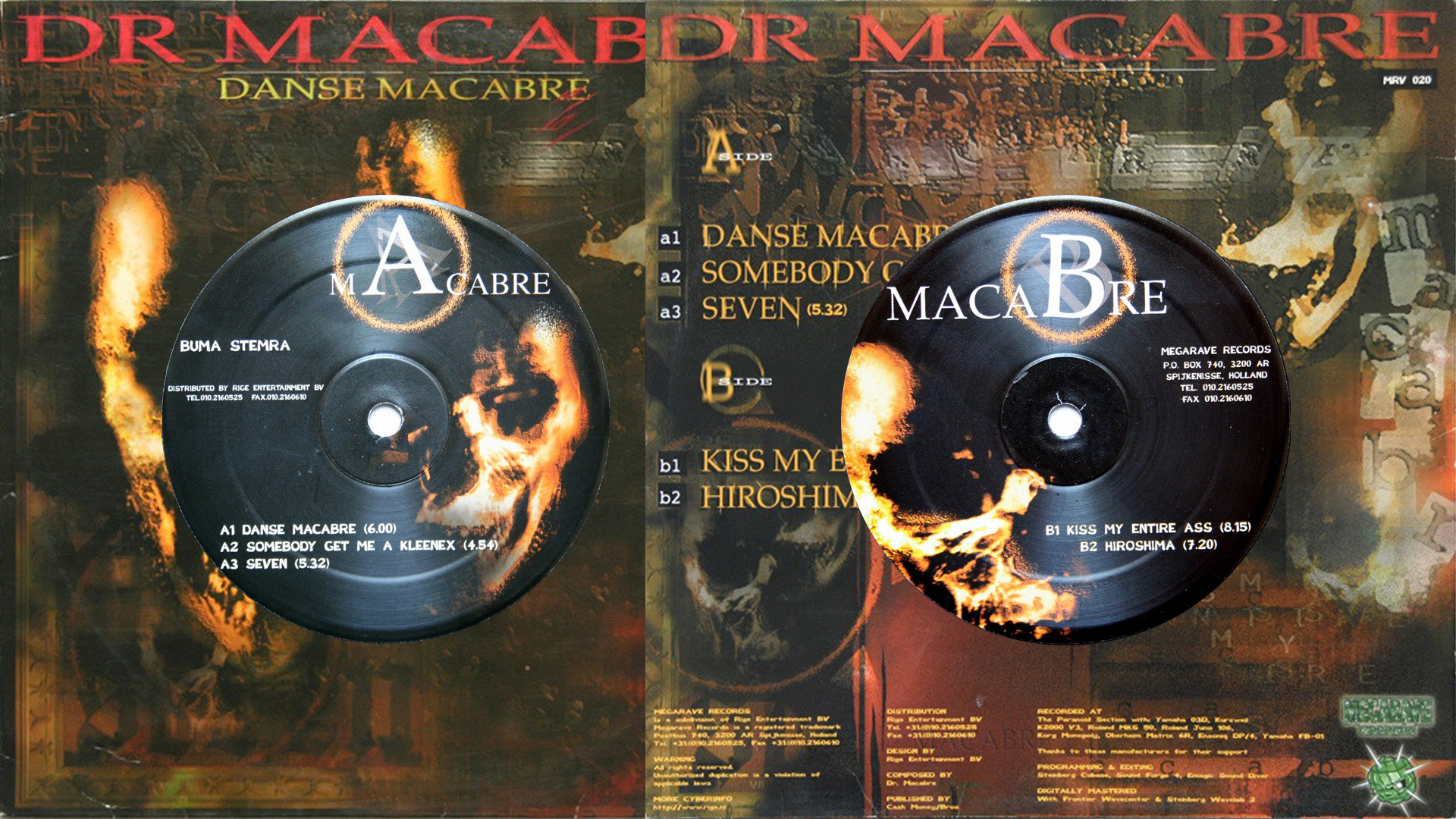 Here we go again with our monthly cassic record review brought to you by Dark-T!
My selected record this time was released in 1998 and, at this time, shaped everything that defined dark but yet dance compatible Hardcore gooves! Created by legendary french producer Guillaume Leroux as Dr Macabre,  one of his alter egos, it was his first release on the Dutch label Megarave Records after legendary german label Planet Core Productions ceased operations around 1997, on which he was responsible for several influentual releases next to Miro Pajic and Marc Acardipane. Being one of the key figures in the early French Rave and Hardcore scene, Guillaume still produces music to this day and runs his own record label Haunted House, even though his last Hardcore production is already some years behind. He nowadays concentrates on his Lunatic Asylum project with which he produces more trippy and ambient like soundtrack music and just recently started the label Sanctum Music as a platform for that kind of musical output.

This time we have no Youtube videos so please skip through the player below for each trax sound examples.

So let's check out the record, beginning with the first track on side A, namely "Danse Macabre".
The track starts with a ghost howling like synthesizer pad that already is foreshadowing the darkness that is about to come. Quite light kicks drop in also introducing another slowly uprising offbeat synth that shortly after is added by a snaredrum rythm. Then the first big break arrives and and the synth sounds work towards the release that is announced by a tone lowering offbeat synth. And there comes the drop, the kicks return bigger and more powerful than before, the groove drives you mercilessly to the next break that works towards the final climax, with the offbeat synth increasing. The kicks drop back in and are slowly losing their punch towards the end of the track, which passes with the ghosts that keep on howling. A perfect track to get hold of a willing and darkness embracing Hardcore audience.
The second track is called "Somebody Get Me A Kleenex" and is one of the more comically outputs from Dr Macabre with a pitched up hoover melody and a quite uptempo pace.
During the track the melody changes to a classic rave synth but is ceeping up the speed and funny sound construct.
The last track on side A already had a release on the first release of Manu Le Malin's Biomechanik series two years before but as Lunatic Asylum, it was also called "Seven" but additionally"(356 Mix)".
This track goes back to a serious attitude and delivers the whole glory of darkness. It starts out with a buzzing offbeat synth sound that is soon joined by a melancholic melody pad. A short break, the kick drops in and just introduces itself till in the next section the power of the kick suddenly intensifies. The melody flanges through the proceeding track until a break in the middle of the track, which is supported by a demanding snare rhythm.  The kicks continue and the listener is mercilessly driven to the final part, where hauning ghost sounds are waiting to take hold till the end.
Side B starts with "Kiss My Entire Ass", the track starts with that funny sounding voice sample in a loop and is paired with some reverbed claps. A somehow promising and uplifing synth is working it's way, soon joined by a light kick till the first break where tension increases and then very massive kicks are dropped. Accompanied by choppy synth sounds the track proceeds restlessly and draws the picture of unholy ghosts battling in a dance off. Compaired to the rest of the EP this track is definitely the most dancefloor friendly as it seems that every sound is forcing your body to move and that there is not such a dark approach like in the other three.
The last track of this EP on Side B is "Hiroshima", a more experimental track, giving the audience no dance order but more a soundtrack for a post apocalyptic wasteland in the final phase of a planets existence. Sounds collages of synths and kicks like vulcanos erupting, pyroclastic clouds moving their way and flashes shooting through the thundery clouds of ash. This track is the perfect final track with the attitude of a soundtrack for a worlds end.
Even as this record is just 20 years old, there are not many release going around and so it will be not easy to find in your local record shop. There are a few records offered on the Discogs Marketplace in Mint condition, which will cost you at least €45,-.